POD® Handboards Since 1993
Armed with love for design and a passion for the water, Shane Vassallo spent many years in research and development before introducing his unique handboards in the late 1980's.
In 1993 POD Handboards Pty Ltd (now known as POD Ware Pty Ltd) was officially established and continued to be an industry leader sought after by bodysurfing wave-enthusiasts all over the world.

Ironically when conducting market research, the typical reaction was that bodysurfing handboards, bodysurfing hand-planes or bodysurfing hand-surfers were not popular and that these products would not sell well in stores.
Australia's Oldest Bodysurfing Handboard Brand
Despite the negative feedback, Shane remained positive being driven by his passion for bodysurfing. He continued to manufacture the POD® Hardboard's distinctive shape and configuration in a robust plastic moulding so strong you could even drive a truck over it. He also continued to hand shape the classic handcrafted wood model to this very day.
It may have taken 20 years, but Shane has proven that this feedback was far from correct.
POD® Handboards have earned their respect on the beach. When people see them for the first time, they are very curious and often ask: 'What is that thing? I cannot believe you can bodysurf across a wave!' or 'Which way do you strap it on.' – Not only are they beautiful to look at they take the sport of bodysurfing to a whole new level!
POD Handboard History (1988-2018) Overview
Well before 1988 Shane body surfed using the largest foot size EVA thong (flip flops). As time progressed he started experimenting with a whole range of different shapes and sizes.
Firstly, using recycled surfboards cores and their fins was a fast way to test, once he found the shape that worked best he took his time shaping boards in Western Red Cedar and Australian Cedar.
Until he could no longer keep up with orders, he invested in his first steel mould to produce the classic solid plastic range to this very day.
First Fibreglass Handboard - Circa 1988
Made from recycled surfboard core and surfboard fins - who would ever imagine 25 years later brands would market themselves as sustainable using old surfboards?
There is so many shapes tested and only this one took us all the way to the bodysurfing competitions. However, fibreglass was not a healthy option, with shin rashes when shaping and glassing which lead to us to the wood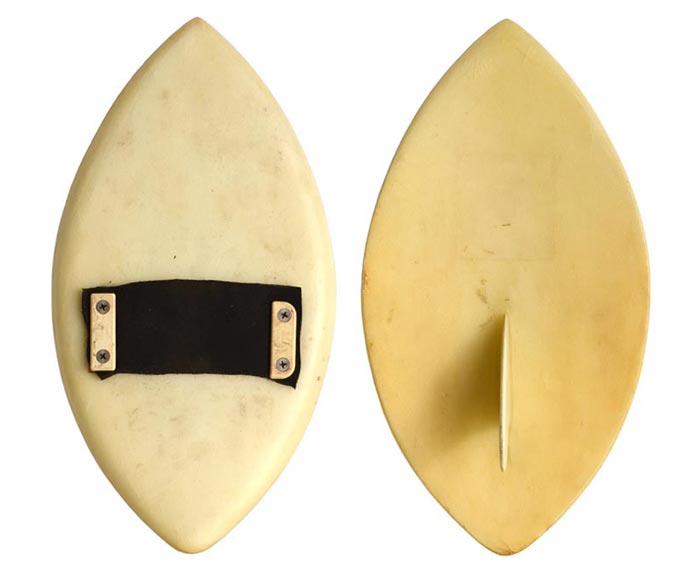 Handcrafted Cedar Handboards - Circa 1990
Wood is amazing to shape Cedar is so giving, sure there is still the dust factor, however, it is so nice to sand into shape and allot easy to seal with marine grade varnish versus fibreglass.
Also includes a handmade Silky Oak fin rebated into the boards concave bottom.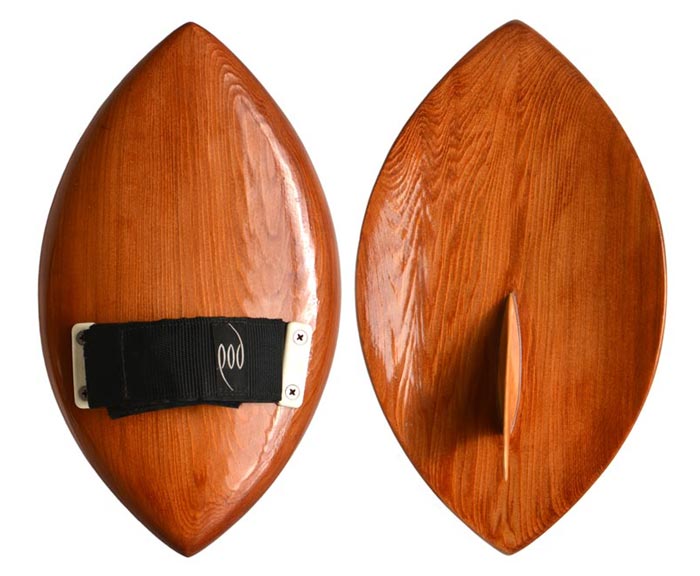 Different Shape Direction - Circa 1991
This would have been the old favourite shape experiment. Still made from cedar, this was a longer board then previous boards and new design tail section, also includes a handmade Jarrah wood fin rebated into the boards concave bottom.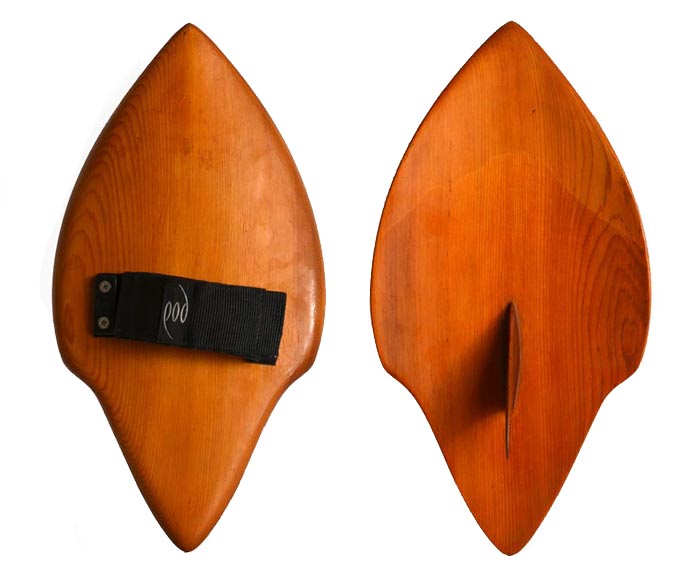 Handboard Shape Refined with Fin - Circa 1992
Refined distinctive shape and configuration has proven to be a winner and best seller till this very day, except for the handmade oak wood fin rebated into the boards concave bottom.
Shane realise the current keel fin provides better direction and control then the surfboard fin shape.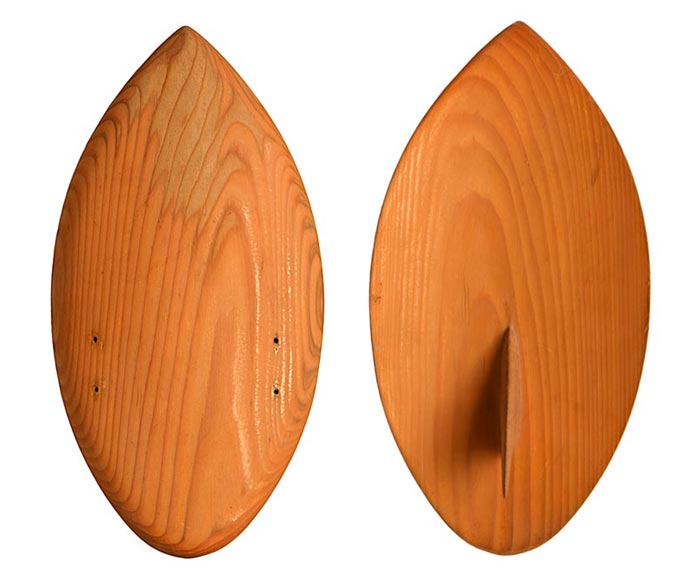 Cherry Wood Handboard and American Walnut Handboard - Circa 1993
With the love of wood species, their different characteristics, grains and colours, Shane made a very limited range.all individually named and numbered.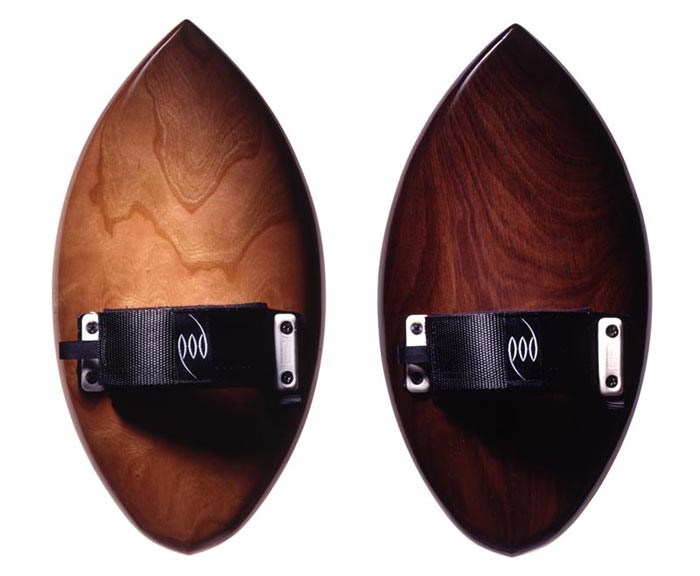 Paduk and Silver Ash Handboard and Zebrano Bodysurfing Handboard - Circa 1993
The Paduk and Silver Ash is the only board ever made, it was also the very first board that was laminated together. The Zebrano also known as Zebrawood is amazing characteristics and there was only four ever made.
This is by far Shane's favourite wood, he was taken by its grain he also made entry table and draw.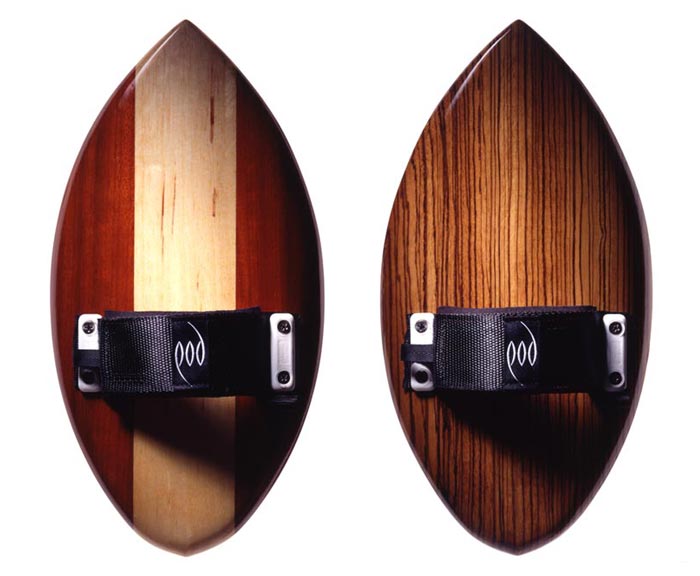 First Full Length Keel Fin Bodysurfing Handboard - Circa 1993
Experimented with a full length keel fin versus a 3/4 length keel fin, the later is still shaped to this very day. The board on the left side actually has no keel fin, when tested was a very different bodysurfing experience.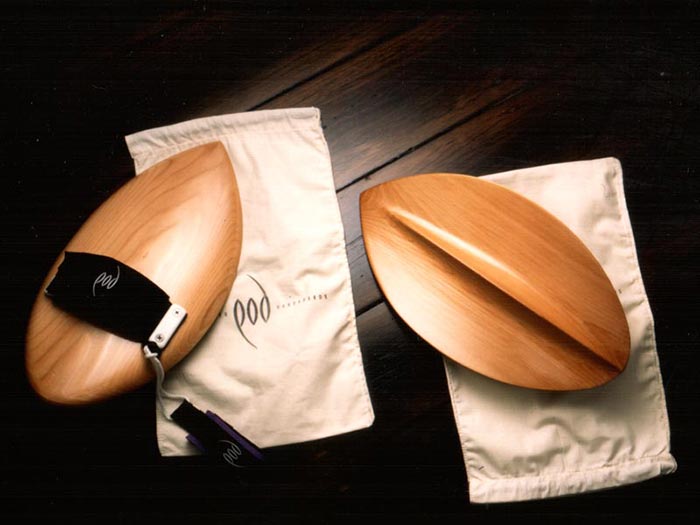 First Solid Plastic Bodysurfing POD Handboards with 3/4 Keel Fin - Circa 1995
Shane was so overwhelmed by the Australian bodysurfing community wanting the POD Handboard. He went straight to the bank for a loan to build his very first steel mould. With the support from his mother Naomi and his father Sam they mortgage their family home.
To this very day has proven a successful venture selling his range of pearl coloured handboards to the worldwide market.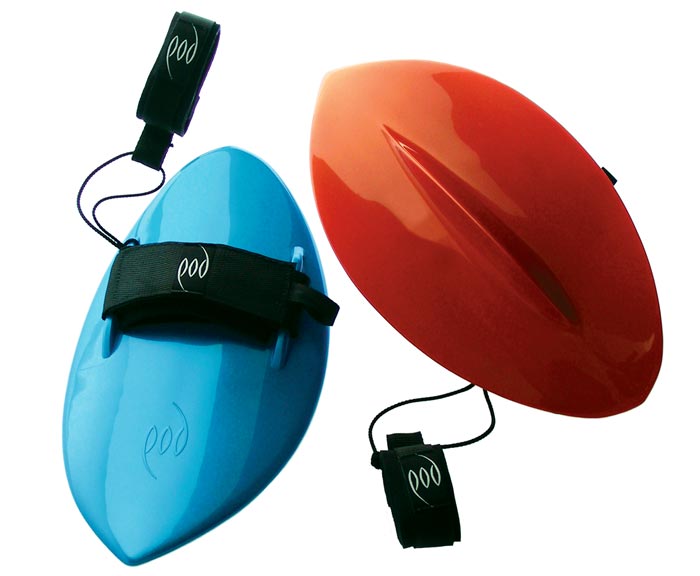 Hand Body Soul® Cotton Wood Bodysurfing Handboard - Circa 2018
Totally new direction for POD Ware Pty Ltd, the new laminated cotton wood Hand Body Soul® POD Bodysurfing Handboard, has a very similar concave deck and concave bottom as the original POD handboards.
Now Shane has introduce the new designed 316-grade stainless steel 50mm webbing hand-strap bridge.
With the greatest advantage of choosing which way you prefer to body surf, (first in bodysurfing) traditional long handboard position or short handboard position by simply rotating the board 180 degrees and change the hand strap and wrist strap to suit.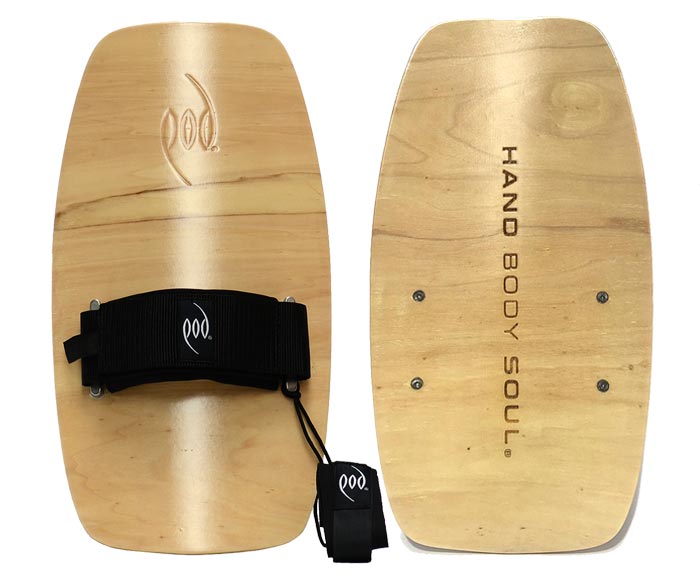 Full range of POD Bodysurfing Handboards now available, the original POD solid plastic pearl colours that withstand any bodysurfing session and within reason is totally indestructible, the new wood Hand Body Soul® POD Bodysurfing Handboard and our finest original hand crafted wood range.
Off the Self: Photos, Covers and Advertising
A small proud collection of POD Handboards History, Gowings Department Stores front cover. Photos carving up the new POD bodysurfing handboards, marketing, advertising and most of all fun times.
Front Cover of Gowings Summer Journal 1997 - 1998

Shane Shaping a Pod Handboard on the Drum Sander

Shane at the Post Card Photo Shoot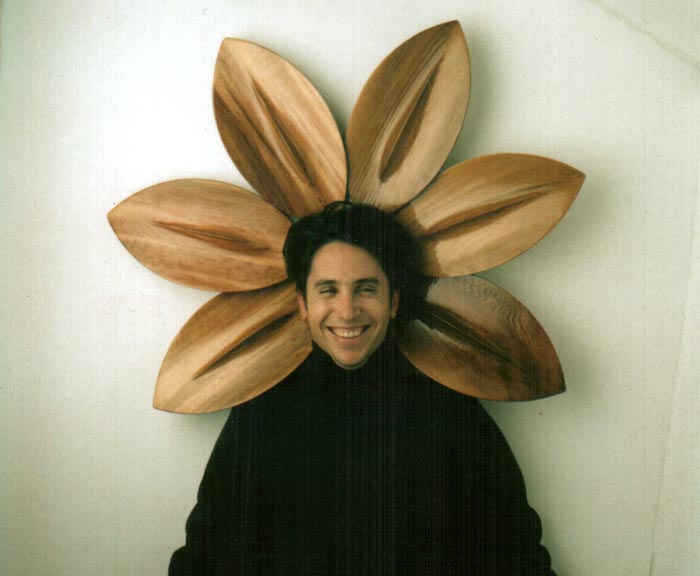 First POD Handboards Postcard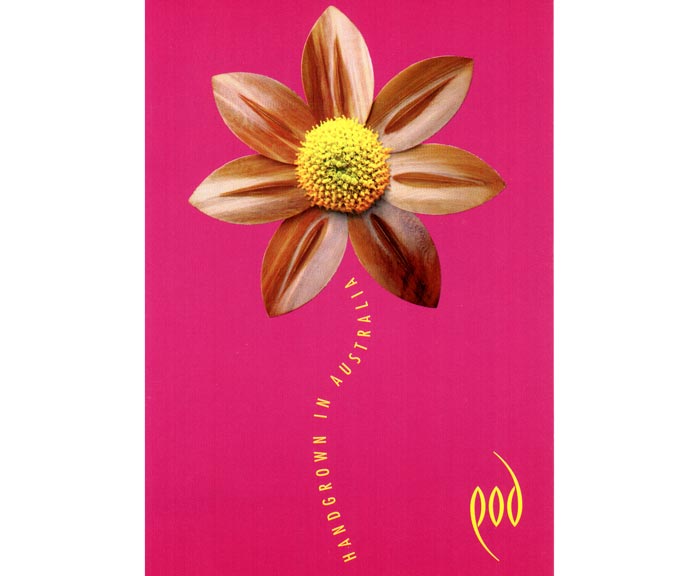 Brother Damian, Shane's First Handboards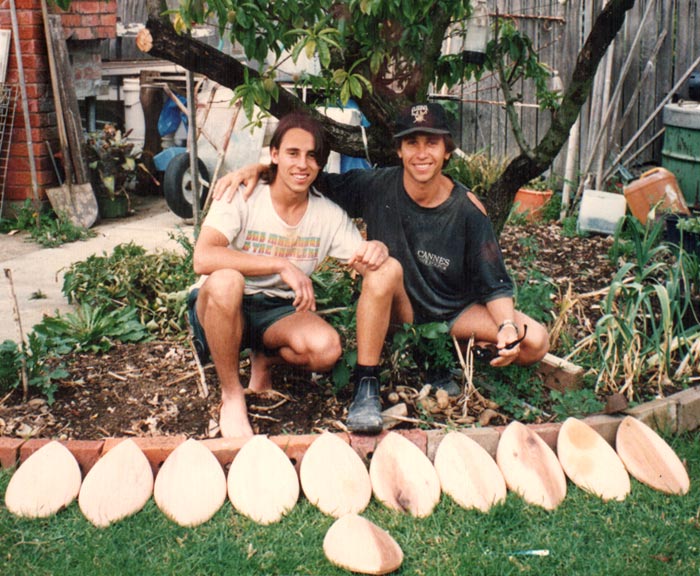 Shane at the Workshop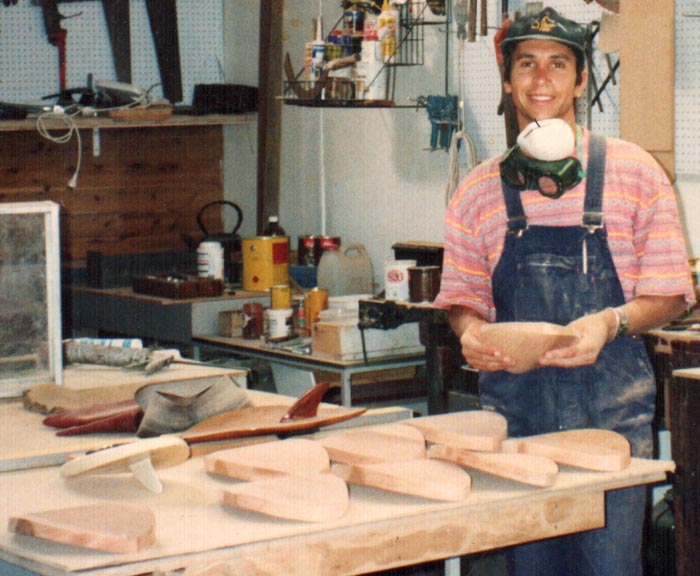 First Timber Handboard Advertising Tracks Magazine 1995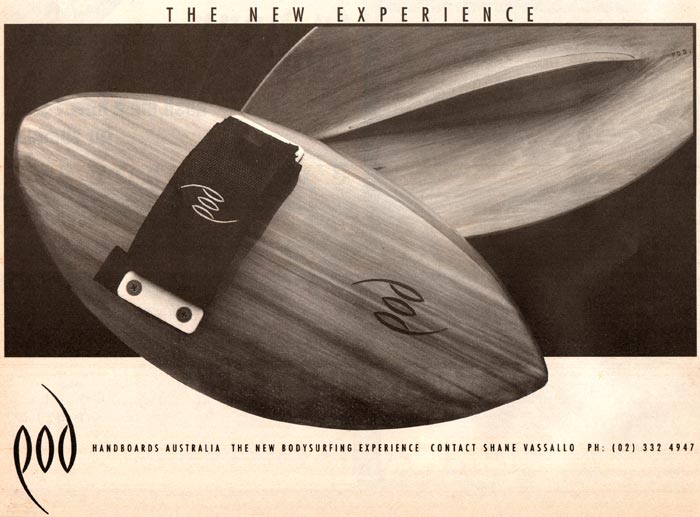 Wood POD Handboards in a Seed POD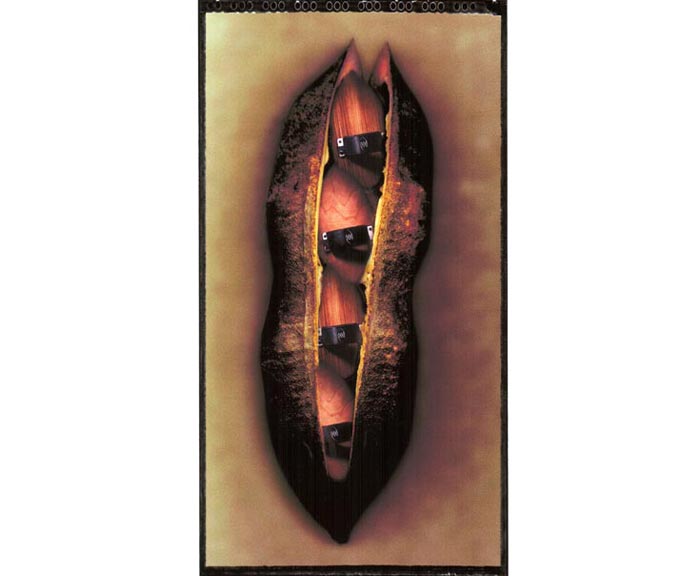 The Future Looks Bright for POD Handboards
Together with designer Shane Vassallo, POD® Handboards is in full support of bodysurfing innovation. Unfortunately, this has not always been the case. One brand, in particular, changed their entire approach from holding/grabbing a handboard, to strapping the hand in the natural swimming position. In doing so, they copied the unique POD® strap bridge design and hand strap construction, right down to logo placement.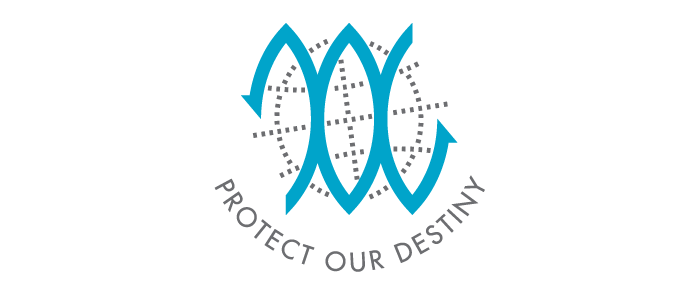 Over time the sport of bodysurfing has gained popularity, and other companies have seen the need to address the challenges of this particular sport.
We are happy to see that now, more than 20 years later new bodysurfing brands are coming out with their unique shapes and designs.
To that, we say "Well done!" -- This is another giant step forward for the Art of Bodysurfing and we hope it only continues to get better!