POD® Handboards since 1993 - The Longest Surviving Bodysurfing Handboard Brand
Armed with love for design and a passion for the water, Shane Vassallo spent many years in research and development before introducing his unique handboards in the late 1980's. In 1993 POD Handboards Pty Ltd was officially established and continued to be an industry leader sought after by wave-enthusiasts all over the world.

Ironically when conducting market research, the typical reaction was that bodysurfing handboards, bodysurfing hand-planes or bodysurfing hand-surfers were not popular and that these products would not sell well in stores. Despite the negative feedback, Shane remained positive being driven by his passion for bodysurfing. He continued to manufacture the POD® Hardboard's distinctive shape and configuration in a robust plastic moulding so strong you could even drive a truck over it. He also continued to hand shape the classic wooden model.

It may have taken 20 years, but Shane has proven that this feedback was far from correct.
POD Handboards - Out of the Box
First Fibreglass Handboard - Circa 1988
First Cedar Handboards - Circa 1990
Different Direction - Circa 1991
Handboard Shape Refined - Circa 1992
American Walnut and Cherrywood Handboards - Circa 1993
Paduk/Sliver Ash and Zebrano Bodysurfing Handboards
POD® Handboards have earned their respect on the beach. When people see them for the first time, they are very curious and often ask: 'What is that thing? I cannot believe you can bodysurf across a wave!' or 'Which way do you strap it on.' – Not only are they beautiful to look at they take the sport of bodysurfing to a whole new level!
Full range of POD Bodysurfing Handboards.
In the Media
As shown in the photos below POD® Handboards have attracted the attention of the media appearing in magazines all over the world.
We particularly like this humorous comment and very creative use for our product: "The Pod has been designed by body surfing nut Shane Vassallo. If nothing else a pair of them could help you slap your way to the front of the ice-cream queue".
Oyster Summer Magazine - Published 1996 - Quote
Just strap it on.
Bodysurfing.
Naturally.
Available in solid and transparent colours, plus a limited timber range. At selected stores.


Mode Magazine - Published 1997 - Quote
Pod squad
Looking more like the landing vehicle of Agent Mulder's friends than this summer's hottest beach accessory, the Pod handboard (above) will make you the coolest bodysurfer on the beach.
Maybe future generations of Australians will be born with these instead of hands. For stockists:
New Weekly Magazine - Published 1997 - Quote
Pocket Surfboard
Looking for a new trill at the beach? Get yourself a Pod handboard ($60). Shaped like a mini surfboard, the Pod straps onto your hand to combine the board-riding trill of skimming across a tube with the body-surfing sensation of being in the wave. Designed by the self-professed "mad body-surfer" Shane Vassallo, the Pod is Australia made, environmentally friendly and is the only surfboard that'll fit in your pocket, For more information call.
The Australian Magazine - Published 1997 - Quote
THE BUZ
Pod squad
We've done everything short of grow flippers to make body surfing wilder: some old-timers even used dinner plates to skim their hands over the waves before it was banned at Bondi.
Smaller and safer is the Pod, $60. Shaped like a mini surfboard, the Pod straps onto your wrist and turn you into a human fin, making it possible to cut across the wave just like a board rider.
Design by self-professed "mad body surfer" Shane Vassallo, it was named after a school of dolphins and is claiming respect from hard-core board riders, "They've seen what we can do out there and we're given space. It's great feeling to cruise across the wall of a wave, it's a total rush." Call Pod Handboards.
The Australian Financial Review Magazine - Published 1997 - Quote
THE IMPORTANT thing to note about The Pod (above) is that it's for the hands, not the feet.
Remember this, or the challenge of surfing could reach even greater heights. The Pod has been designed by body surfing nut Shane Vassallo.
If nothing else a pair of them could help you slap your way to the front of the ice-cream queue. RRP $60, Tel: 0412 892 000 for stockists.
Total Sports Magazine - Published 1997 - Quote
POD HANDBOARD
You though that quality and style were disappearing faster than the suburban bandicoot?
Well, TotalSPORT has some welcome news for you, Mr Negativity - the Pod handboard. Used in conjunctions with fins, this gives new meaning to the term body-bashing.
Hard and unforgiving, these will leave unsightly bruises on unsuspecting children frolicking in the break. Not that we recommend that sort of thing.
Available in a range or recycled plastics or as a hand-crafted timber versions.
Distributor: Pod Handboards
Price: From $59.95
Women in Sports Magazine - Published 1998 - Quote
A pod FULL OF fun
There are board riders and there are body surfers... and most beachgoers would say you're either one or the other. Wrong. The POD combines the board-riding trill of skimming across a wave with the sheer surfing pleasure of water on the body.
This is not just another hand held board. It is shaped like a surf board, acts like a surf board and costs around the same prices as your swimming costumes. All you need to work the POD is the ability to swim... and to have fun.
I gave the POD a test drive last month in small waves at Torquay and believe me it's not hard to get working. As you feel the wave under you and paddle with your free arm, simple pushing down with the POD against the force of the wave lifts up your body and sweeps you across the top of the wave, It is also very light which allows for helps of freedom of movement... basically you can do what you want.
The POD was design by self confessed body-surfing addict, Shane Vassallo. It is 100 percent Australian made of recyclable plastic and organic colour pigments and come is a wide range of colours.
It retails for $60 at all good surf shops.
The Australian Magazine - Published 1998 - Quote
LEFT: Pod handboards, for extreme bodysurfing and ultimate wave riding, in assorted colours, $59.95, from Gowings.
Australian Style Magazine - Published 1998 - Quote
POD HAND BOARD
Developed in 1992 by body-surfing fanatic Shane Vassallo, The Pod is a strap-on hand board designed to let you surf along a wave while enjoying increased speed and control. Best used with flippers. Originally made from fibreglass, Vassallo has since found recyclable polypropylene less toxic. Hand-crafted Australian cedar also available. Try Gowings, Myers or your favourite sports store.
eMag - Published 1999 - Quote
Wave breaker
Six years ago, Shane Vassallo began making bodysurfing handboards for himself. "Hey dude, can you make me one too," they kept asking him, and now he has a business, Pod Handboards. The "Pod" comes in different materials - this one is pearl-transparent pigment in engineered acrylic, which changes from blue to green, depending of the light.
Your hand straps in above the pivot point and in the concave area underneath is a keel fins set in an elliptical curve; designed for speed and control as you fly across the face of the wave. The attached velcro wristband will save you losing it in a wipeout.
The Pod Handboard. Contact 0412 892 000
Recommended retail price: $59.95 to $74.95 depending on material.
Wired Magazine - Published 1999 - Quote
Flipper Than Thou (Australia)
Being digital is a disadvantage when it comes to bodysurfing, which is why Pod handboards streamline your primate fingers into a smooth cetacean edge.
Strap the acrylic aquatic appendages to your wrist and catch the wave. Pod handboard $A74.95 (US$48.50).
Vogue International Summer Magazine - Published 2000 - Quote
HANDS DOWN
Remember the boogie board? Now from Australia come a new idea in bodysurfing Shane Vassallo, A maker of custom timber surfboards.
Came up with the idea of bodysurfing with what he calls "PODS": Mini Acrylic handboards strapped to the hands and wrists. www.podware.com.au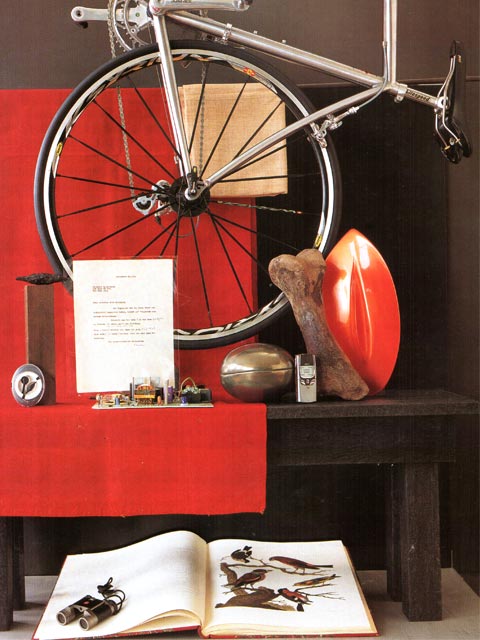 Town and Country Featured POD handboard
The Future Looks Bright for POD Handboards
Together with designer Shane Vassallo, POD® Handboards is in full support of bodysurfing innovation. Unfortunately, this has not always been the case. One brand, in particular, changed their entire approach from holding/grabbing a handboard, to strapping the hand in the natural swimming position. In doing so, they copied the unique POD® strap bridge design and hand strap construction, right down to logo placement.

Over time the sport of bodysurfing has gained popularity, and other companies have seen the need to address the challenges of this particular sport. We are happy to see that now, more than 20 years later new bodysurfing brands are coming out with their unique shapes and designs.
To that, we say "Well done!" -- This is another giant step forward for the Art of Bodysurfing and we hope it only continues to get better!
Off the Self
Cover Gowings Catalogue and Shane Shaping a POD Handboard
First POD Post Card and Shane at the Photo Shoot
Brother Damian, Shane First Handboards and Shane at the workshop
First Timber Handboard Photo Shoot and Advertising Tracks Magazine 1995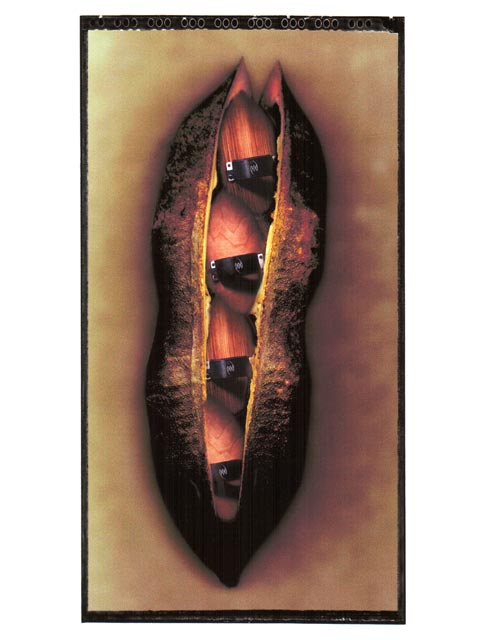 Timber POD Handboards in a Seed POD